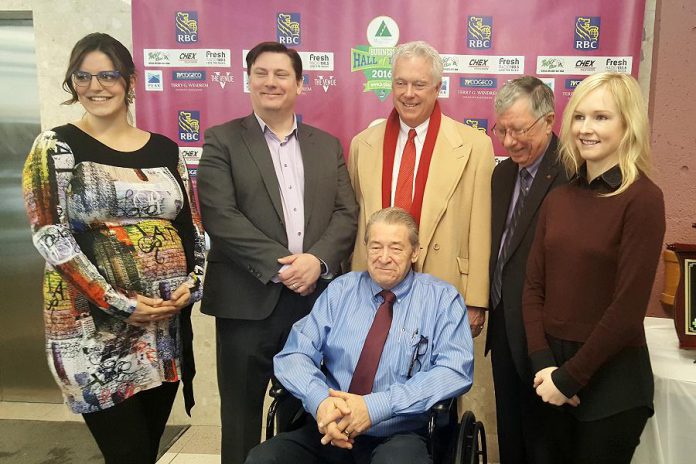 Inductee Mike Skinner (second from left) stands beside Peter Duffus (grandson of inductee JJ Duffus), with Junior Achievement's Marina Wilke (left), president and CEO John MCNutt (seated), board chair Paul Ayotte, and MaryBeth Miller (photo: Jeannine Taylor / kawarthaNOW)
When looking at what you aspire to be, it's prudent to look to those who have become and then some.
Following up on the success of last year's inaugural event, Junior Achievement – Peterborough, Lakefield, Muskoka (JA-PLM) representatives came together Tuesday morning (January 24) to reveal this year's inductees to its Business Hall of Fame.
The initiative speaks directly to JA's aim of providing young people with inspiring examples of those who have walked the entrepreneurial walk and walked it exceptionally well, with the goal of fueling the passion which drives their ambition.
On May 25 at The Venue (286 George Street North, Peterborough, 705-243-6996), this year's eight inductees — Jack McGee, Robert Young, Joseph James (JJ) Duffus, Isadore Black, Darrell Drain, Rhonda Barnet, John Bowes, and Michael Skinner — will be formally honoured at the now annual Induction Ceremony and Culinary Showcase. More information on that event will be forthcoming as the date nears.
But on Tuesday, with both JA-PLM President and CEO John McNutt and board chair Paul Ayotte leading the charge, it was all about the big reveal. Among the inductees present was Skinner, president and CEO of the Greater Peterborough Innovation Cluster. Following the formal presentation, he spoke to the benefits that business leaders derive from their mentorship of young people.
VIDEO: Junior Achievement Business Hall of Fame 2017 inductees
The 2017 inductees for the Junior Achievement Business Hall of Fame. Video by Rick Dolishny, Junior Achievement Peterborough, Lakeland and Muskoka."I've learned a lot from the questions that they ask; sometimes you don't have answer and you have to go off and figure it out, so that's a learning experience," says Skinner, who was a JA member back in the day.
"I gravitate towards those entrepreneurs that are really pushing the envelope. Being an ceremony entrepreneur is a pretty scary time. I had lots of mentors that helped me at the very beginning. If it wasn't for them, I probably would have given up. So I see a lot of them in me. The drive, the ambition, the spark."
"I have two sons, one who's six months old and one who's three years old. There's a good chance that some of those entrepreneurs I'm helping today might employ one of my sons in their first job."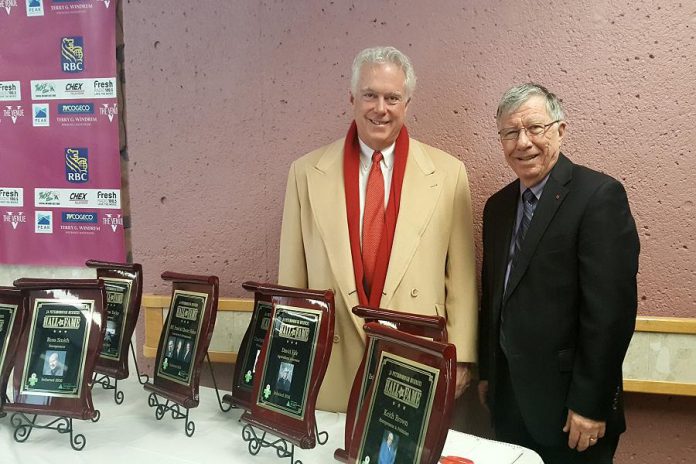 Junior Achievement board chair Paul Ayotte (right) with Peter Duffus, whose grandfather Joseph James Duffus is one of the eight inductees. Joseph James Duffus was a school trustee, alderman, mayor, MP, and senator as well as an automobile dealer and funeral home owner. (Photo: Jeannine Taylor / kawarthaNOW)
Peter Duffus, representing his grandfather Joseph James Duffus who served politically for 50 years as a school trustee, alderman, mayor, MP and senator as well as put his business acumen to work as an automobile dealer and funeral home owner, touched on numerous examples of his giving back to Peterborough. He notes he often dug deep into his own pockets to help those in need, including families affected by the tragic Quaker fire in 1916.
"He was a Gemini and Geminis have always got something going on … they get bored," notes Duffus.
"He was an entrepreneur. It would be an oxymoron to say he was a successful entrepreneur because to be an entrepreneur is to be successful. All you have left when you leave this world is your reputation. I'm very proud (of his grandfather's induction). The whole family is."
According to McNutt, there were 12 nominations for induction, all which were reviewed by a selection committee.
Anyone nominated but not selected for induction remains in the mix for future consideration.
"By highlighting the people, from the past and the present, that have shown entrepreneurial skills, and the component of giving back to the community, that provides a great role model," notes McNutt of the intent behind the Business Hall of Fame model.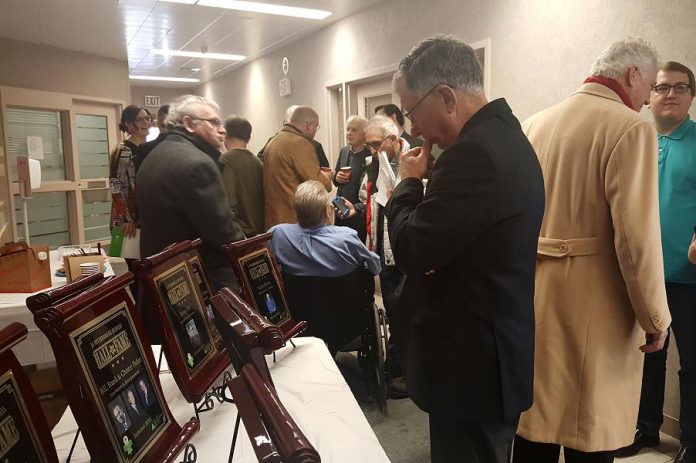 Junior Achievement board chair Paul Ayotte examines the plaques of last year's inductees into the Junior Achievement Business Hall of Fame (photo: Jeannine Taylor / kawarthaNOW)
"We (JA) are teaching financial literacy in the elementary schools but in high schools we're teaching entrepreneurship. If you're looking for a good job in these times, you may have to make it yourself. The people (the inductees) are great examples of that."
"Our message is create your opportunity. If you want run a business, find something that isn't working and fix it or take a look around the community. Last week I was in Renfrew and I said 'Take a look at what you have to run to Ottawa to get. Maybe there's a market right here.'"
McNutt adds that each induction ceremony serves to fuel the fire in terms of bringing other potential inductees to the attention of JA leaders, providing a growing stable of nominees from different business sectors, both in the City and County.
Following is a brief overview of each of this year's inductees:
Jack McGee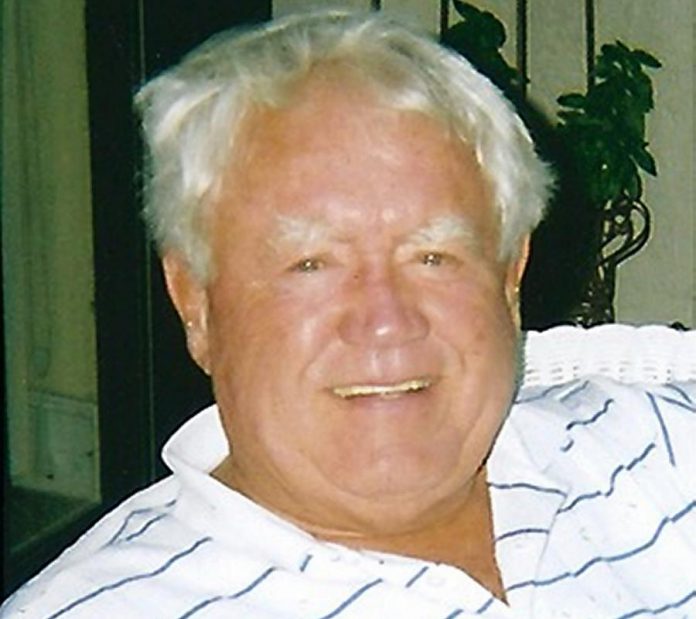 Jack McGee (photo: the McGee family)
McGee is best known for establishing the Jack McGee Chevrolet Oldsmobile dealership in 1963. His contributions to the community over the years were innumerable and he even had success on a provincial scale as a two-term president of the Ontario Automobile Dealers Association.
Robert Young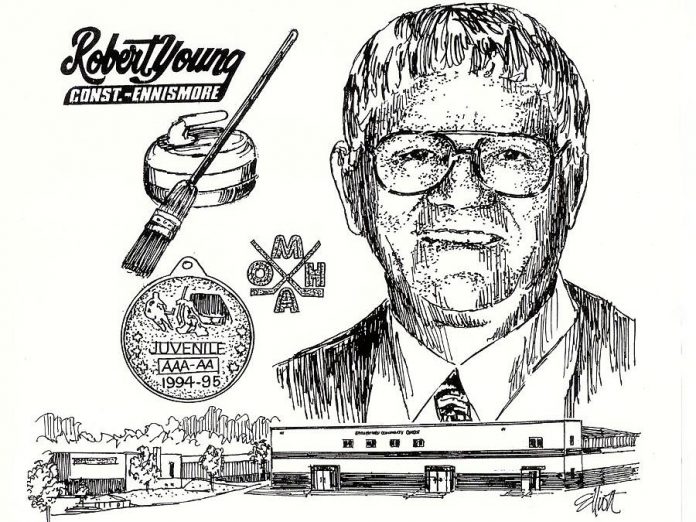 Robert Young (graphic: Peterborough and District Sports Hall of Fame)
Young is the founder of the Robert Young Construction Company which remains a thriving family business in Peterborough County. The Ennismore Community Centre, which he was instrumental in building, bears his name.
Joseph James (JJ) Duffus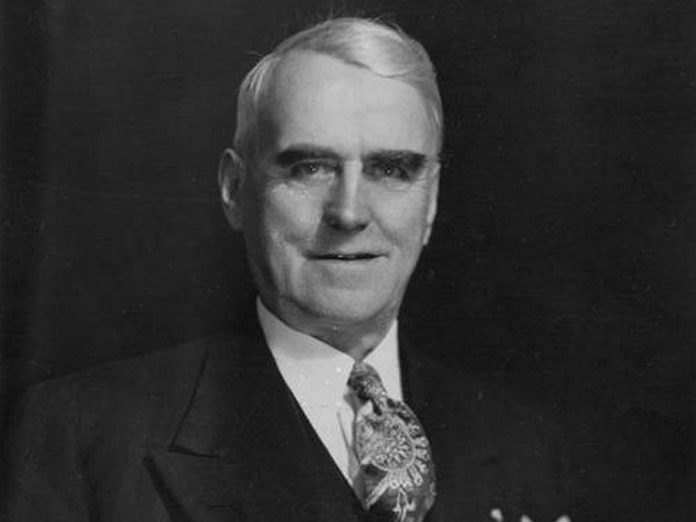 Joseph James Duffus (photo: the Duffus family)
Long before being appointed a senator, Duffus was an instrumental part of the Peterborough community. From selling cars and machinery to opening Duffus Funeral Home, his entrepreneurial accomplishments are eclipsed only by his devotion to public service which saw him serve as a Peterborough alderman and mayor.
Isadore Black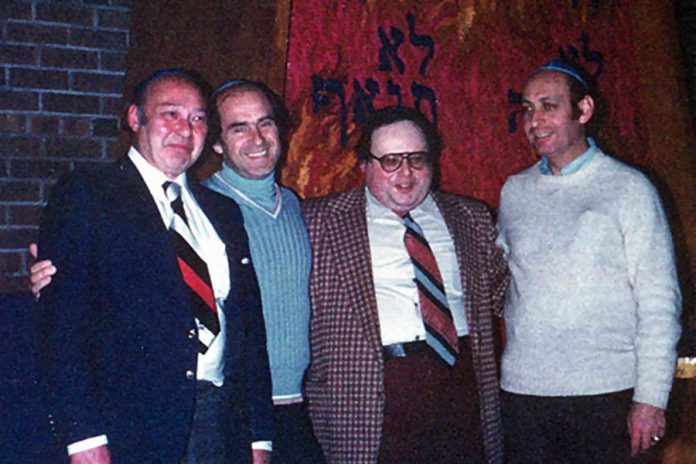 Isadore Black (left) with Murray Grafstein, Rabbi M. Spar, and Skip Pulver inside the Beth Israel Synagogue in Peterborough in 1977 (photo: Ontario Jewish Archives)
Longtime residents of Peterborough remember Black as the owner of the Black's Menswear and Clothing in downtown Peterborough. Lesser known is the fact that he held the presidencies of organizations such as the Peterborough DBIA, the Chamber of Commerce, and the Rotary Club.
Darrell Drain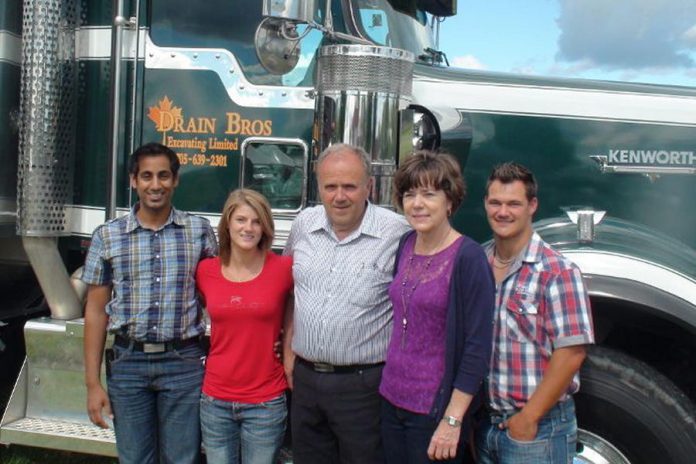 Darrell Drain with his family
Drain began Drain Brothers in 1971 alongside his brother and has since built it into one of the largest and most successful group of companies in Peterborough. His companies now employ more than 300 people and are an essential element of local economy.
Rhonda Barnet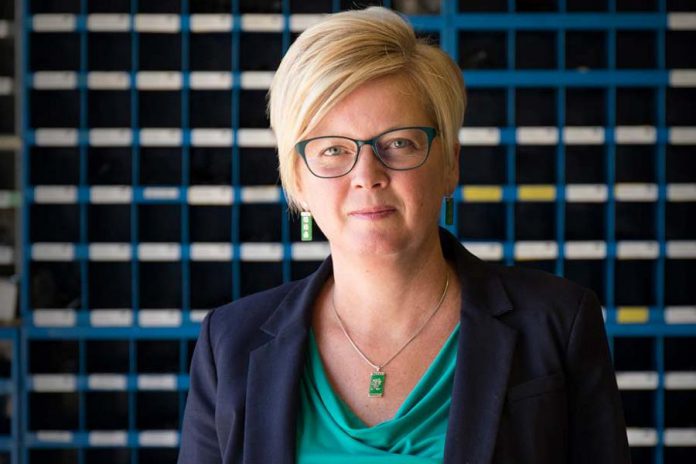 Rhonda Barnet
As co-founder of Steelworks Design, Barnet has made a name for herself since her graduation from Trent University. From contributions to local efforts to boost the economy, like StartUP Peterborough and the Greater Peterborough Innovation Cluster, to her groundbreaking role as the first woman to lead the National Board of Canadian Manufacturers, Barnet's work remains instrumental in encouraging businesses call Peterborough home.
John Bowes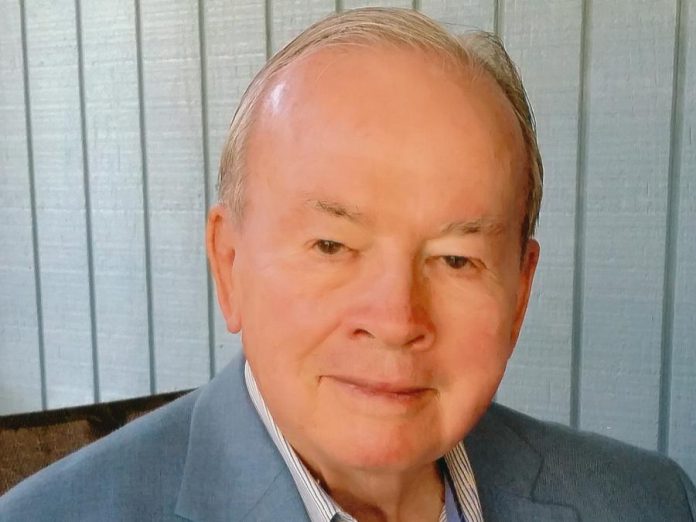 John Bowes
The undisputed champion of Peterborough real estate, Bowes co-founded Bowes and Cocks Realty as well as RE/MAX Eastern Realty. He was instrumental in the development of several city subdivisions and played a major role in the amalgamation of the 19 municipalities that now form Peterborough County.
Michael Skinner
Michael Skinner
As the current president and CEO of the Greater Peterborough Innovation Cluster, Skinner is leading the effort to attract, support and incubate new business in Peterborough. His impressive list of personal business ventures is a long one. Skinner also works with the Economic Development Board, the Economic Development Strategic Planning Committee and the Peterborough Regional Angel Network.
Источник: http://kawarthanow.com/2017/01/24/ja-business-hall-of-fame/
Flex expands Israel activity with new
What watch to wear with a grey suit
Introduction 1.1920's Style – The key Features. 2.Art Deco and 1920's Fashion. 3.The.