Difference between stylist and stylish
The stylist seems to be the new most coveted fashion job at the moment, but how many people actually know what a stylist does? Let me break it down for you.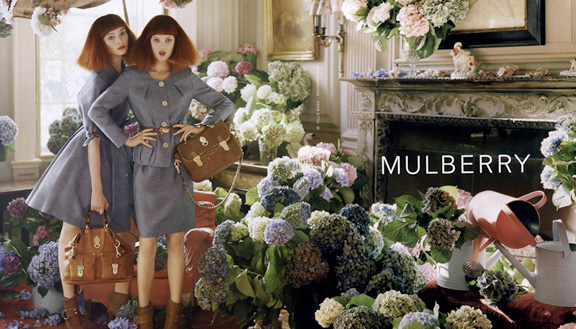 Edward Enniful, one of the UK's top fashion stylists, styled this Mulberry campaign shot by Tim Walker.
The stylist is responsible for creating "style." Ok, I know that sounds vague, but essentially the stylist is deciding what a model or person wears, and HOW they wear it. The main roles of a stylist can essentially be broken down into these three categories:
Editorial styling / Styling for photoshoots
Brand consultancy
Celebrity styling
1. Let's start with Editorial styling / Styling for photoshoots. When a stylist works on a photoshoot, he or she basically chooses the clothing, the accessories, and/or the general "look" of the model for the shoot. In the case of a magazine shoot, the stylist would be given some direction from the magazine or art director as to what the theme was (spring summer bright colours, animal prints, etc…) and what brands need to be featured. Remember that the brands featured in a glossy magazine are mostly the brands that advertise, so the magazine needs to make sure they get editorial coverage. The team would be named (photographer, hair, make up, etc…) and sometimes the stylist would have some say in this. Once the "concept" for the shoot was finalized with the photographer, the stylist must then pull the clothing for the shoot.
If an editorial spread was to have 6 pages and 5 outfits, then a stylist would normally pull at least ten outfits, probably more. You never know how things will work out on the day, and it is important that there are alternatives if things don't work out as planned. In order to pull the outfits, the stylist will consult lookbooks, contact PR's and showrooms, and sometimes pull directly from stores. Lookbooks are catalogues of designer's collections, usually the catwalk looks, so sometimes they just use Style.com or similar to see what each designer has put onto the catwalk. If the stylist finds something they want to use, they call the brand's PR agency or department, and request the item. The item may not necessarily be available, as it may be in another country or on another shoot, so this needs to be confirmed first. If it is available, then they stylist will have it sent to their office, or go and pick it up.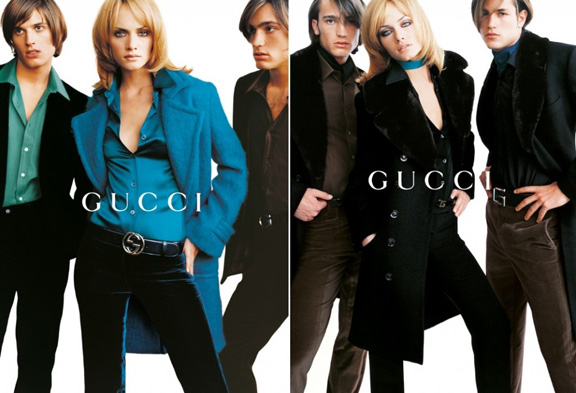 This legendary Gucci campaign, styled by Carine Roitfeld and shot by Mario Testino, was one of the many campiagns she worked on with Tom Ford. She was responsible for helping to shape the image of the brand.
Stylists will also contact PR agencies or brand showrooms when they are searching for clothing or accessories for a shoot. This could work two ways, either they could call and say "I am doing a shoot on animal prints, do you have anything that can go into the shoot?" and the PR will pull all the relevant animal print items and show them to the stylist. The other option is for the stylist to visit the showroom, and browse through the collections. Something may stand out, and they will decide to use that in the shoot.
If a stylist is pulling directly from a store (this can happen if they are using vintage pieces), then they visit the store, choose the item, and leave a deposit, or pay for the item and be refunded when it is returned.
Once all the clothing and accessories are chosen, the stylist needs to make sure they get to the shoot safely (which can be quite a drama if the shoot is very far away, and requires 5 suitcases of clothing to be flown halfway across the world.) On the day of the shoot, the stylist needs to make sure the garments are photo-ready (ironed, clean, etc…) and will also be responsible for choosing the outfits the model wears, and arranging them on the model as the photographs get taken (they make sure the item isn't hanging funny, creased, un-tucked, etc…) Styling also involves the "style" of the outfit: is the top falling off the shoulder, is the shirt half tucked in, are the socks scrunched down by the ankles… These are all very important elements in a photoshoot. This same role can apply to TV commercials, music videos, or even film and television (although then we are getting into wardrobe positions, which is a slightly different story.)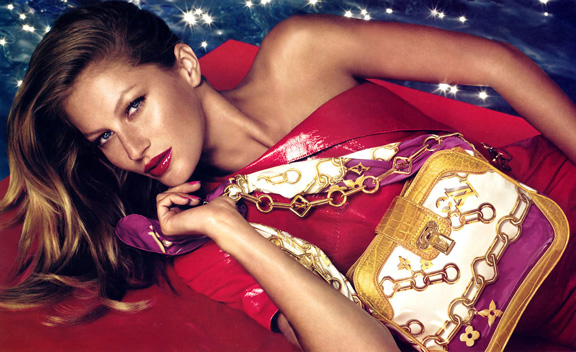 Katie Grand styled Gisele for this Louis Vuitton campaign.
And don't confuse the stylist with the art director, which are quite different roles. The art director chooses and directs the theme of the photoshoot (and as a result, directs the entire team) whereas the stylist is only in charge of the clothing and accessories, or the way the model looks. Not every shoot has an art director, but for advertising campaigns and large commercial projects, there will always be an art director.
2. Brand consultancy is another role of a stylist. This involves several elements, some brands hire stylists throughout the whole process (ex. Emmanuelle Alt played a big role in the shaping of Balmain), and others bring in a stylist at the end of the collection process, when most of the clothes have been designed, but they need someone to help "pull it together."
If the stylist is involved throughout the whole process, which is unusual but can happen, then they will attend some design meetings from the beginning of the collection process. The designer will show them research, ideas, and sketches, and the stylist will give them input. This can also involved bringing in their own ideas, visual research, interesting garments they have found, etc… and show them to the design team. The stylist essentially becomes a part of the design team, but they don't do any physical designs, they just give their ideas.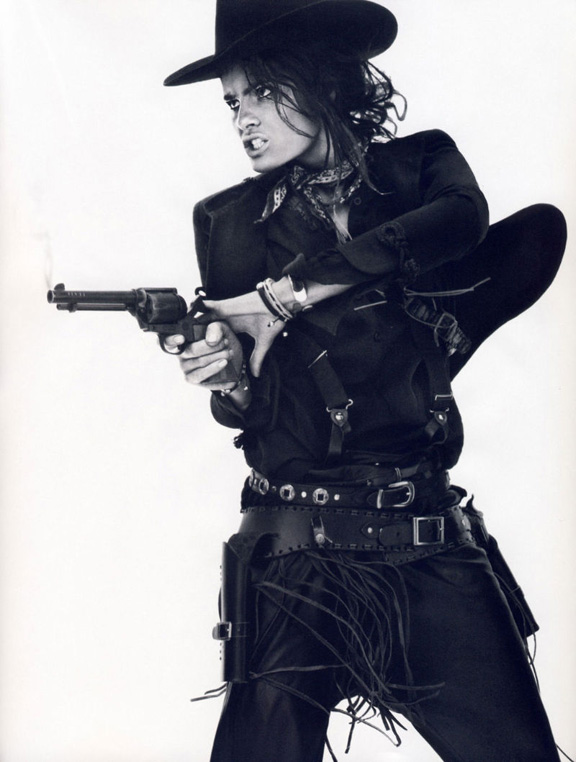 Emmanuelle Alt's signature style shows through in this editorial shoot she styled for the April issue of Vogue Paris. Shot by David Sims.
Most of the time, the stylist gets involved in the collection close to the end, once most of the garments are designed, but help is needed to "tie them together." When I worked at Sonia Rykiel, Carine Roitfeld used to style our collections. She would come in once a week or every ten days, starting about eight weeks before the show, and help choose the show looks. A fit model would be present, as well as all of the collection sample garments, and we would try on the different garments and choose the catwalk looks. Sometimes Carine would make suggestions of new pieces, for example, making a longer version of a piece, or trying it in a different colour or cut. She would also sometimes bring in vintage pieces and suggest we use that as inspiration (or copy it, which is the more honest way to describe what we'd do with vintage pieces.) We would also choose all the catwalk looks, and the order in which they'd be shown. This could include the garments, accessories, and how the clothes were worn. The stylist who works on the show often also styles the photoshoot.
3. Celebrity styling is the area I am least familiar with, but it is pretty self explanatory. A stylist can work with a celebrity on a regular basis (dressing her/him for day to day as well as events) or the stylist will work with them simply for a special occasion, such as an event. When dressing a celebrity for an event, the stylist needs to consider the brand (does the celebrity have any brand relationships they need to support?), current trends, and what the message is (do they want to shock, make the celebrity look more "respectable", etc…) This is also a difficult area to get into (well, all good styling jobs are pretty hard to secure.)
Rachel zoe shopping and watching a fashion show with Mischa Barton, who used to be a client.
How does one get into styling? Well, there is no university course that is going to get you a job like this. First of all, you need to have a good eye. Secondly, some sort of fashion education helps, but isn't necessary. Ultimately it is about assisting other stylists while learning the ropes, and then hopefully being able to go out on your own. You also need to make contacts with PR's who will lend you clothes
I had a friend who managed to build herself a very good styling career, by doing just that. We studied together at Ecoles de la Chambre Syndicale in Paris, and in her second year (of three) a friend of ours suggested she apply to be Carine Roitfeld's second assistant (the first assistant was leaving, and the second assistant was being promoted.) She left school and took on the job, able to do so because her parents had an apartment in Paris and supported her while she worked for free (actually, I can't remember if she was actually working for free at the very beginning, but I am pretty sure she was. If not, she would have been paid peanuts.) Eventually, she was promoted to first assistant, and that is when Carine got the job at Vogue Paris. My friend then ended up as an employee there, and over the next few years established herself as a stylist, whose clients are now Paris, Japan, China, and Teen Vogue, as well as some major brands including Maxmara. But it isn't as easy as that, she worked very, very hard to get there. She worked a LOT. Weekends, evenings, anytime Carine needed her. I witnessed it, and I wasn't envious, despite the fact that she had invitations to all the big shows and lots of free clothes.
Anyway, for those of you out there trying to establish yourselves as stylists, start testing as soon as possible. That means doing "trial" shoots, where you work with a team who is looking to create their portfolio, and everyone works for free. Building a portfolio, getting experience, and making contacts are the first steps in a styling career. You also need to have a good eye, and that is something that cannot really be taught.
Read other Fashion 101's
Fashion 101: How Perfume is Made
Fashion 101: Why Luxury is Expensive – The Hermès bag
Fashion 101: Magazines and their Advertisers
Источник: http://searchingforstyle.com/2011/04/fashion-101-what-does-a-stylist-do/
Remington Stylist 25 Piece Men's Hair
Awesome transparent christmas tree tumblr pictures
Sort by: PrincessRae 2017-07-13 13:05:53.